NEW PUP NIGHT HOURS!!
Our monthly Saturday event now begins at 7:00pm and wraps up at 9:30pm.  This means that our garment check will also close at 9:30.  Please note that the pup mosh will begin shutting down around 9:15 because we must be out of the room without a trace by 9:30pm in order to make way for another event.
__________________________________________________________________________
GAYSTATION @ The Black Eagle Toronto (Pup Edition)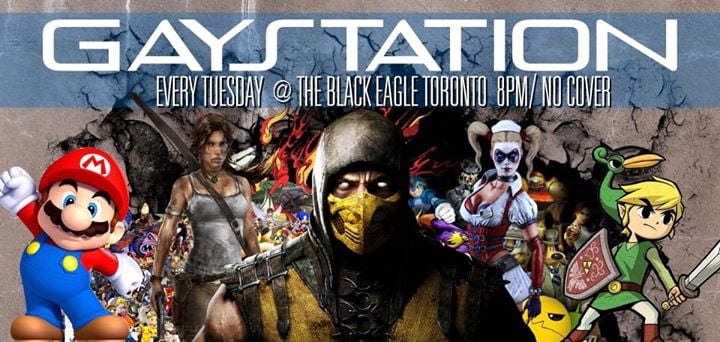 Starting May 2nd, the first Tuesday of every month will be a special "Pup Edition" of the Black Eagle Toronto's "GAYSTATION" video game night on the big video screen hosted by Brendan James McGovern. Come out in your pup hoods & play with our joysticks and paddles. With two PS4s, a Nintendo Wii, and NES Classic, there are more games to choose from than ever. Starts at 8:00pm and there's no cover charge. $5 Budweiser & Bud Light draught special, and day prices all night! Happy gaming
🙂  
__________________________________________________________________________
Puppy Pride Party
The Black Eagle Kennel Klub invites you to celebrate Toronto Pride Week…doggy style!  Come to the Black Eagle Toronto on Wednesday June 21 starting at 8:00pm to meet mix & mingle with pups & handlers from the Greater Toronto Area and far beyond.
DJ Alain will be spinning & mixing all night so everyone can shake their tails on the dance floor. Every year this event has been very well-attended. This means we won't really have room for a supervised pup mosh area but pups are welcome to come in full gear if they choose and just be pups wherever space is available.
There is no cover charge for this event, but the BEKK will run the usual $2.00 garment check for pups who want to change into their gear for the night.
As with all BEKK events, this one is open to everyone regardless of gender, sexuality, or experience level. There is no dress code for the event, but BEKK membership cardholders and pups with gear will get "front of the line" privileges.
Come out and celebrate Toronto Pride Week with the puppies!!! Link to Facebook Page
_______________________________________________________________  
BAD DOG!!!
Bad Dogs need to be controlled at the dog park because they often want to fight and mount the other dogs…but now they can run wild at the Black Eagle Toronto once a month!
With the great success of Pup Nights, the Black Eagle Kennel Klub is very happy to present an alternative pup event: Bad Dog! Bad Dog is not your typical pup mosh event. It's a night of full-contact puppy play. Pups will be given room to wrestle PLUS a semi-private space where full nudity and some sexual play will be allowed.
If you're interested in pup wrestling and/or sexualized fully nude puppy play then you might be a bad dog. In that case, this night is for you!
MORE INFORMATION
The entire bar will be a clothing-optional sex-positive space. Essentially, anything goes as long as it's CONSENSUAL & it doesn't result in the spilling of blood or poop. The bar only asks that any sex acts take place in the back bar area (where we do our moshes) or upstairs…essentially just not in front of the main bar or front door. There will be a garment check, so nothing should be left anyplace else. This is for your own safety & security, as the bar & the BEKK will not accept responsibility for any items not checked and because bags & coats left on the floor create a tripping hazard.
As with any other event, shoes MUST be worn when not on the mosh or wrestling mats. Anyone who must be repeatedly reminded of this will be asked to leave. It is common to find shards of broken glass on the floor (it IS a bar, after all) and this rule is for your own safety. The wrestling area will be monitored for safety. Sexual/mosh play will also be monitored (primarily by bar security, but to a lesser degree also by Argo).
We're all adults, so please behave as such. Remember that CONSENT is kink's Cardinal Rule. ANYONE who violates that rule will be ejected from the event. Please remember that our club's #1 rule is "If you can't play nicely then you can't play at all." Also remember that
Pup Ego
Jordan Timbehr
& Argo have the authority to have troublemakers ejected from any of our events, and that Argo also has the authority to PERMANENTLY ban offenders from both the BEKK and any of our events at the Eagle.
Come out, and let your BAD DOG loose to play!